Posting Instructions
Welcome!
Once you register and log in to the site, you can post articles to this site.
Post items: You may post jobs (including postdoc or graduate fellowships), conference, workshop and other events, grant announcements, career news and articles to this site.
Cost: To publish a job post, you need to pay US$29. If you have many vacancies, you may buy multiple posting package for only US$299. This will enable you to post unlimited posts for the next 12 months. But remember, you can post only vacancies from your institution. [If you are a recruiter, please find payment details at here.]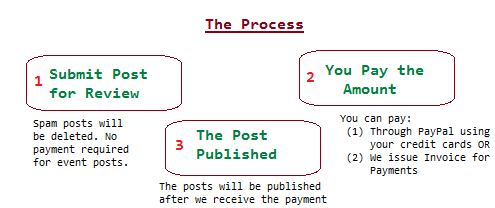 Review: Site administrator will review your posting and approve it manually to avoid spams. It may take up to 24 hours to publish your post. [You may buy posting rights so that you can avoid 'post review' process plus many other benefits. See advert details.]
Simple Instructions for posting vacancy announcements, career news, etc
Provide appropriate title for your post
Key in (or copy and paste) vacancy details
Select suitable categories from the right panel (right category/categories will maximize your post publicity- through email alerts and post distribution through social media and RSS feeds)
Specify expiration date
Finally, click the Publish or Submit for Review button.
Make payment.
You are done!
Posting conference, workshop and other events
Posting events is similar to posting vacancy announcements as mentioned above
But, no need to select category (ie. Events category will be automatically selected when you specify the Event dates)
Schedule your events at the bottom of the posting page (look for Event Editor tab)
Done! Thank you.